Comprehensive Monitoring

Comprehensive Monitoring Across Childhood and Early Adolescence: An Implementation Evaluation
Project Director: Catherine Nolan (Victorian Department of Education and Training)
Project Manager: Dr Kim Thomson (Deakin University and The University of British Columbia, Canada)
Project Co-ordinator: Sophie Barker (The University of Melbourne, Royal Children's Hospital Campus)
For the past three decades, the Australian Temperament Project has been systematically following the health and development of over 2000 young Australians, from infancy to adulthood and into the next generation. This now provides an unparalleled body of research with which to inform comprehensive monitoring of emotional growth at each age and stage of development through to parenting.
With this in mind, we have partnered with the Victorian Department of Education and Training, The Social Research Centre (Australian National University) and the Human Early Learning Partnership (University of British Columbia, Canada) to pilot the feasibility of monitoring early child development at three time points – toddlerhood, school entry and middle childhood – in five Victorian Communities.
The study will run over a 24 month period (2018/2019), and if successful, will be extended in scope with the addition of perinatal, adolescent and young adult emotional growth indicators to capture the full span of the early life course from pregnancy to adulthood. The project builds on a recent report on the progress and priorities for comprehensive child development monitoring, and has been jointly funded (cash and in-kind) by the Ian Potter Foundation, the Department of Education and Training, and the Social Research Centre.
Objective
To develop new protocols for high quality, community-level, assessment of social-emotional development in toddlerhood and middle childhood, and to link these to Australian Early Development Census (AEDC) for Comprehensive Monitoring.

Aims
To establish a reliable protocol for using Maternal Child Health Nursing, Immunisation, Supported Playgroup and "Gathering Place" visits to achieve a 90% response rate on the Toddler Development Instrument (TDI)
To establish a reliable protocol within the school system, similar to that of the AEDC, to achieve a 90% response rate on the Middle Years Development Instrument (MDI) for children aged 10-14 years
To establish methods of data visualisation that provide communities with comprehensive indication of development across the TDI, AEDC and MDI
Team

Measures
The Australian Early Development Census (AEDC) is a national measure of young children's development at the commencement of school (age 5) across five areas of early childhood development – physical health and wellbeing, social competence, emotional maturity, language and cognitive skills, and communication skills and general knowledge. The AEDC is based on the Canadian Early Development Instrument (EDI) and has been implemented nationally since 2009. The primary objective of the AEDC is to improve the early childhood evidence base so that governments and communities have the information they need to better support their children and families. It has been endorsed by the Council of Australian Governments as a national progress measure of early childhood development.
To extend the scope of monitoring, a second universal screening tool, the Middle Years Development Instrument (MDI) is currently being trialed in Australia in Victoria and South Australia. The MDI is a self-report measure for children ages 10 and 14 that asks about five areas of development – physical health and well-being, connectedness, social-emotional development, school experiences, and use of after school time – that are strongly associated with children's health, well-being, and academic achievement. Like the AEDC, MDI data are used at a population level to understand the factors that promote children's health and wellbeing for the purpose of informing policies, practices, and collaborations to improve children's social and structural environments.
The Toddler Development Instrument (TDI; ages 16-20 months) is the most recent extension of the Comprehensive Monitoring system, being piloted in five Victorian communities in 2018/2019. The TDI is completed by parents and measures six constructs associated with children's healthy development including social interactions and play; health, nutrition, and development; family/community resources and barriers; social environment and support; caregiver beliefs and well-being; and sociodemographic context. The TDI has been tested with parents, community leaders, and child development professionals, and shows potential to identify community strengths and improvement areas to ensure all children and their families have supports to realise the best possible start in life. 
Five Trial Sites in Victoria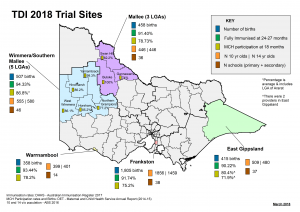 Data sources:
Comprehensive Monitoring and Intervention
Our aim over the coming years is to work collaboratively with our partners to establish three additional developmental indices in the perinatal, adolescent and young adult periods (2018/2019), to complete a comprehensive monitoring system for emotional growth that extends across the first three decades of life from infancy to adulthood. Indicators will be progressively made available on a new "What Matters for Children and Young People" website which will link to evidence-based response options (Menus of Services) on a new "What Works for Children and Young People" website. Government-level processes trialed in this project will inform the protocols needed to bring to life Comprehensive Monitoring and Intervention to Australian communities in the future. The developmentally integrated vision is illustrated in the Figure below.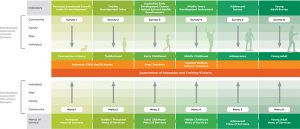 Partner Organisations