This week, as part of the ATP Feature Article Series, we are highlighting some important findings from our Generation 2 cohort, who are now reaching 36 years of age.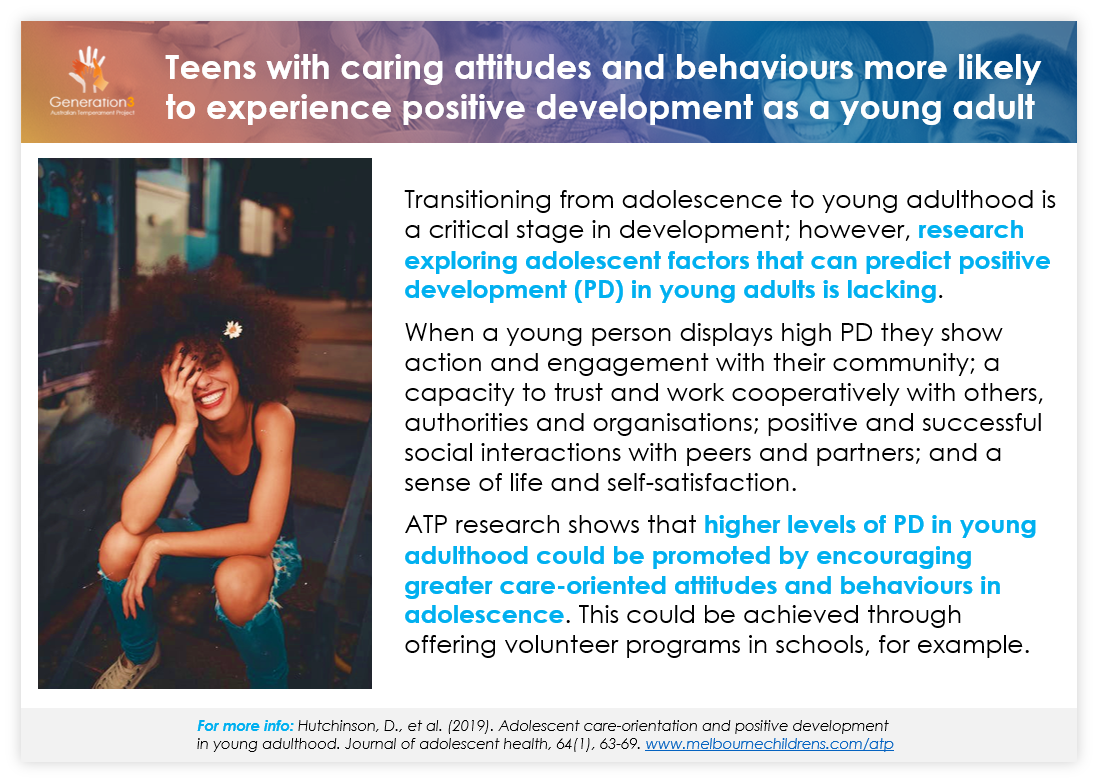 Summary
In the present day, lots of the research into how to best raise healthy teenagers focuses on reducing risks for things like substance misuse, mental illness and problematic behaviours. However, we know that there are also lots of positive components that contribute to healthy development. These include particular social and emotional strengths, such as resilience, identity formation and self-determination. But what exactly are we trying to promote in young adulthood? And which strengths or assets can we target in order to achieve that goal?
Ultimately, we want our young adults to achieve something called positive development (PD). A model of positive development has previously been established by ATP researchers. It includes numerous areas of strengths and assets, such as:
action and engagement with community;
capacity to trust and work cooperatively with others, authorities and organisations;
positive and successful social interactions with peers and partners; and
level of life satisfaction and meaning/purpose.
Whilst many factors that might predict a young adult's level of PD have previously been explored, in this article we chose to investigate the relationship between PD and adolescent behaviour that reflects care for self, care for others and care for the wider community – also called 'care-oriented behaviour'. This was chosen due to its known link with wellbeing in young adults, and its likely influence on later transitions into parenting and the formation of social and emotional identity.
To explore this relationship, we looked to see whether Generation 2 participants' self-reported involvement in volunteering, social responsibility and awareness, and community and political activities at age 15-16 predicted their level of PD a few years later, at 19-20, 23-24 and then 27-28 years of age.
We found that higher adolescent care-oriented behaviours in adolescence did in fact predict higher PD at age 19-20 years of age, for both males and females. Importantly, we also found that this determined a pathway for higher levels of PD across young adulthood. This suggests that if we focus on promoting care in young people, this could positively impact their successful transition to adult roles and relationships later in life.
Results from this study also supported the idea that the early twenties represent a period of growth in PD. Whilst most people's level of PD continues to grow at a similar rate throughout young adulthood, those young adults who started with a lower level of PD at 19-20yrs don't catch up over time to those whose PD was higher. This again points to the implication that promotion of care-oriented behaviours during adolescence can lead to better outcomes later in life.
These findings have implications for education and prevention, suggesting that efforts to target positive change in young adult development might be most effectively implemented in the teenage years. Families can help support their teens to develop caring values in the home, or encourage their teen to participate in civic engagement within the community. Interest in the welfare of others can extend to a range of environments in everyday life and within local communities, including environmental care through to local fundraising. The school environment particularly presents an opportunity for the integration of care-orientated behaviours to support volunteering, fundraising, and community involvement.
Authors' Conclusions
By promoting more care-oriented attitudes and behaviours in adolescence we could enhance adult development by increasing levels of positive development at the start of the twenties. Intervening earlier in life seems to be key, as once established, PD tends to remain stable throughout young adulthood.
Full Reference
Hutchinson, D., Youssef, G.J, Buhagiar, A., Teague, S., Macdonald, J.A., Letcher, P., Greenwood, C., McIntosh, J., Toumbourou, J., J., Hallam, W., Skouteris, H., Sanson, A.V., & Olsson, C.A (2019). Adolescent care-orientation and positive development in young adulthood. Journal of Adolescent Health 64: 63-69.
DOI: https://doi.org/10.1016/j.jadohealth.2018.07.024
Related Resources