Generation 3
Our COVID-19 survey has closed! Thank you to the 492 Gen3 parents who shared their experiences with us. Click on the links below to view some snapshots our findings:
Study Overview
The ATP Generation 3 Study provides a rare opportunity to investigate how the experiences of one generation affect the next, from grandparent (Generation 1) to parent (Generation 2) to child (Generation 3). The study has been recruiting and assessing over 1000 offspring born to ATP participants since 2011. This period represents across the peak period of first births in Australia.
The study assesses the social and emotional health of parents and offspring in late pregnancy, at birth, 8 week postpartum, 1 and 4 years of age. Epidemiological assessments cover parental mental health, parent-offspring bonding, and offspring social-emotional development. Nested clinical assessments extend to fetal brain development and parent-child attachment behaviour. DNA is also collected.
The study builds on over 30 years of rich development data already collected on parents since infancy in 1983. This includes repeated assessments of depression and anxiety, obesity and eating disorders, sexual and reproductive health, genetics, as well as extensive data on protective offsets (preconception/postnatal) that can be modelled to advise on approaches to preventive intervention.
There are few studies anywhere in the world with the capacity to link social and emotional health data across three generation to explore intergenerational cycles of advantage and disadvantage. In doing so, the ATP Generation 3 study offers unique potential to radically reshape approaches promoting a healthy start to emotional life for generations to come.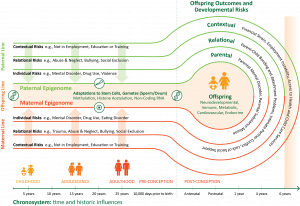 Purpose
The primary aim of the ATP Generation 3 Study to examine intergenerational predictors of three core determinants of infant social and early emotional development; specifically:
Parental social and emotional health: the extent to which parent (and grandparent) preconception life histories determine social and emotional wellbeing during parenthood.
Parent-child attachment security: the extent to which parent (and grandparent) preconception life histories determine patterns of child attachment with fathers and mothers.
Offspring social and emotional health: the extent to which parent (and grandparent) preconception life histories determine offspring social, cognitive and emotional development.
Study Design
Participant and family assessments can be fully explored using our new Interactive Study Design: LifeCourse ATP Generation 3
Recruitment
Recruitment for the Generation 3 study is now complete.  Offspring were primarily recruited during pregnancy.  All active ATP participants were contacted every 6 months to identify new offspring.  The team contacted around 70% of participants listed for follow-up each month, identifying around 10 offspring that were then recruited into the study.  Although we will no longer be inviting new children born to Generation 2 participants into Generation 3, we will continue to follow up those children who are already involved.
Assessment Domains
Assessments map to study aims and can be group into three main categories: (1) Parental Social and Emotional Health (e.g., postnatal mental health and substance use, relationship quality and social support), (2) Parent-Child Attachment Security (e.g., parental felt bond to their child, parenting style, and observational assessments of infant attachment and parental caregiving behaviour using the Strange Situation Protocol), and (3) Offspring Social and Emotional Health (e.g., behaviour problems, sleep and eating, language and learning). DNA is also collected at 8 weeks, 1 year and 4 years postpartum. Assessments can be fully explored at Lifecourse ATP Generation 3.
Study Domains
The ATP Generation 3 Study is an interdisciplinary study working across population, attachment, neurodevelopmental and genetic domains. Each domains is led by expert investigators on the team (see About Us).
Population Studies
The primary epidemiological study is tracking over 1000 offspring. Assessments are done through surveys completed by parents using computer assisted telephone interviewing techniques in late pregnancy, 8 weeks postpartum, 1 and 4 years of age. Data on births are collected via record linkage.
Thank you to all families who have completed surveys at each age/stage; these surveys are providing exceedingly important information about intergenerational processes that affect us all.
Parent-Offspring Interaction Studies
The study includes observational assessments of parent-infant co-regulation of emotion using the gold-standard Strange Situation Procedure (Mary Ainsworth). Assessments are completed at 1 year and 4 years of age.
Watch a short video of what happens during a 1year old observational session at the Royal Children's Hospital Melbourne.
Thank you to those families who have been in to visit us so far; these observations are providing valuable insights into the very early development of emotion regulation and social connection.
Molecular Studies
The study collects DNA at 8 weeks, 1 year and 4 years postpartum with the aim of understanding how the early social environment can change the way genes work to shape child development.
Thank you to those families who have already consented to DNA collections; you are helping contribute to a very important and ground breaking area of intergenerational research.
Neurodevelopmental Studies
The study includes a nested neurosonography cohort (N=56) that provided baseline assessments of early brain development at the end of the third trimester of pregnancy.
Thank you to those families who participated in third trimester ultrasounds; you are helping advance understanding of very early brain development.